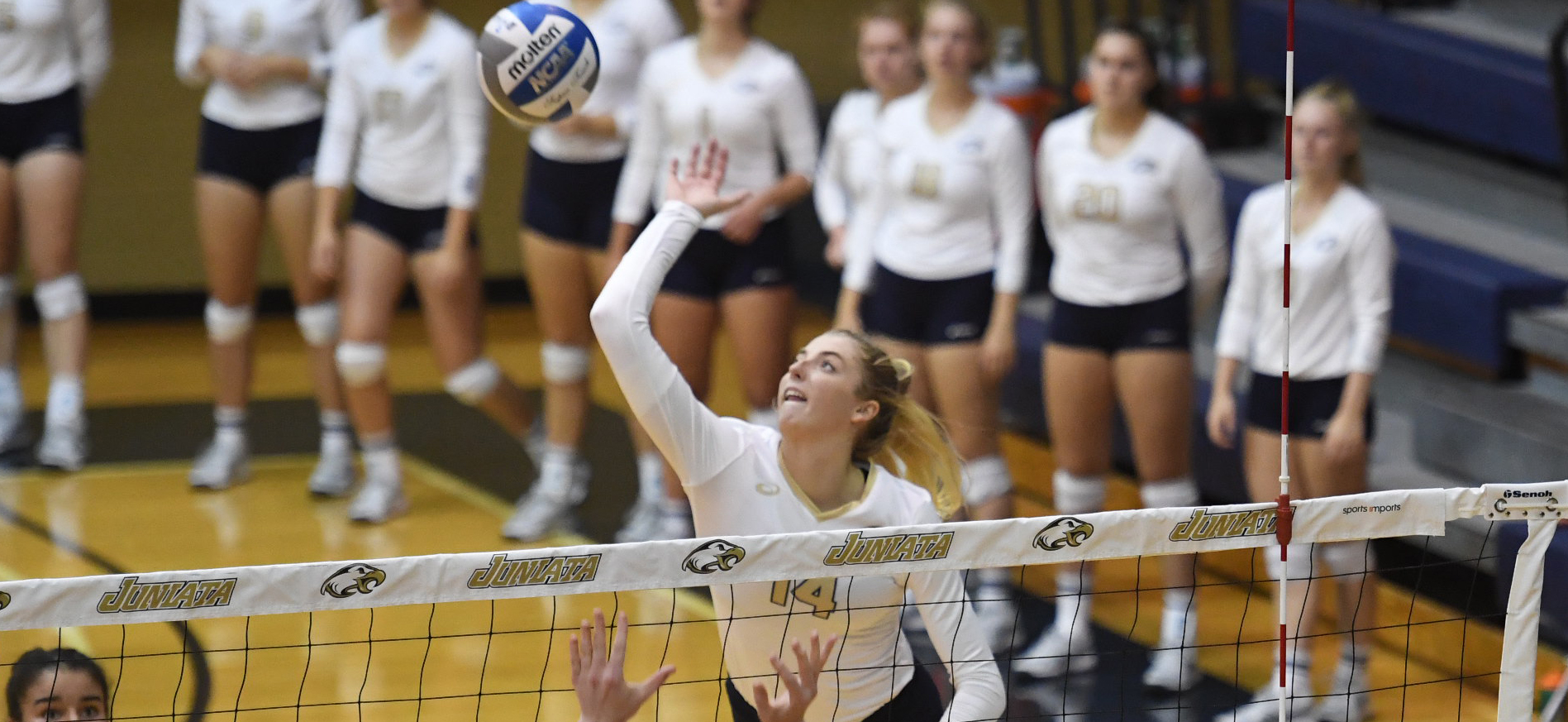 MIDDLETOWN, Conn.- The Juniata women's volleyball team went toe to toe with last year's Elite 8 opponent, #24 Wesleyan, but ultimately lost 3-2 (28-26, 23-25, 28-26, 20-25, 14-16) Friday evening inside Silloway Gymnasium.
The opening set saw the Eagles have their most efficient set hitting the ball as they hit .354 as a team and totaled 20 kills. Juniata led by as many as six late, 22-16, and reached set point later on a kill from Emma Davis (East Berlin, Pa / Dover Area HS) 24-21. The Cardinals rattled off four straight points to retake the lead, 24-25. The teams traded points as the JC fought to stay alive, with a kill from Victoria Taylor (Middletown, Del. / Delaware Military Academy) knotting the score again at 26-26. Taylor notched back to back kills to nab set one for the Eagles, 28-26.
The second set followed a similar script most of the way, as again Juniata held a three-point lead late in the set, 21-18, before the Cardinals rallied to lead, 21-23. Kills from Taylor and Morgan Edwards (Lancaster, Pa. / Penn Manor) tied things at 23-23, but Wesleyan took the final two points to tie the match at one set apiece.
The third saw the Eagles trail by as many as six midway through, 13-19, but they slowly clawed their way back. The Cardinals got to set point, before a kill from Dejia Danhi (Ashburn, Va. / Stone Bridge) followed by a block by her and Marie Gonsar (New Castle, Pa. / Shenango H.S.) tied things at 24-24. With the score at 25-26, Gonsar knotted things with a kill and Davis pushed JC ahead with a kill of her own. A Wesleyan attack error ended set three in favor of the Eagles, 28-26.
Wesleyan had their best set hitting the ball in the fourth, with their .318 hitting percentage forcing the match to a fifth set as they won, 20-25.
The fifth set started off well for the Eagles as a Cardinal error and an ace from Davis made it 2-0. Wesleyan managed to eke ahead before back to back errors tied the score at 6-6. The Cardinals built a narrow lead at 8-10 prior to a Davis kill and a block from Davis and Moira Folan (Pittsburgh, Pa. / Oakland Catholic HS) tied things again at 10-10. The teams went back and forth when a kill from Taylor made it 13-12 and Wesleyan called a timeout. Following two Cardinal kills it was the Eagles turn to call timeout, with Danhi notching a kill to make it 14-14. That was the final Eagle point as Wesleyan took the requisite two points to win, 16-14.
Several Eagles had big games: Aly Reardon (Downingtown, Pa. / Downingtown West HS) had a season-high 28 digs, Folan had a career-high 54 assists, Taylor had a career-high 23 kills and Davis had a season-high 17 kills.
Juniata will take on #18 Johnson and Wales tomorrow at 11:00 and Trinity (Conn.) at 1:00.