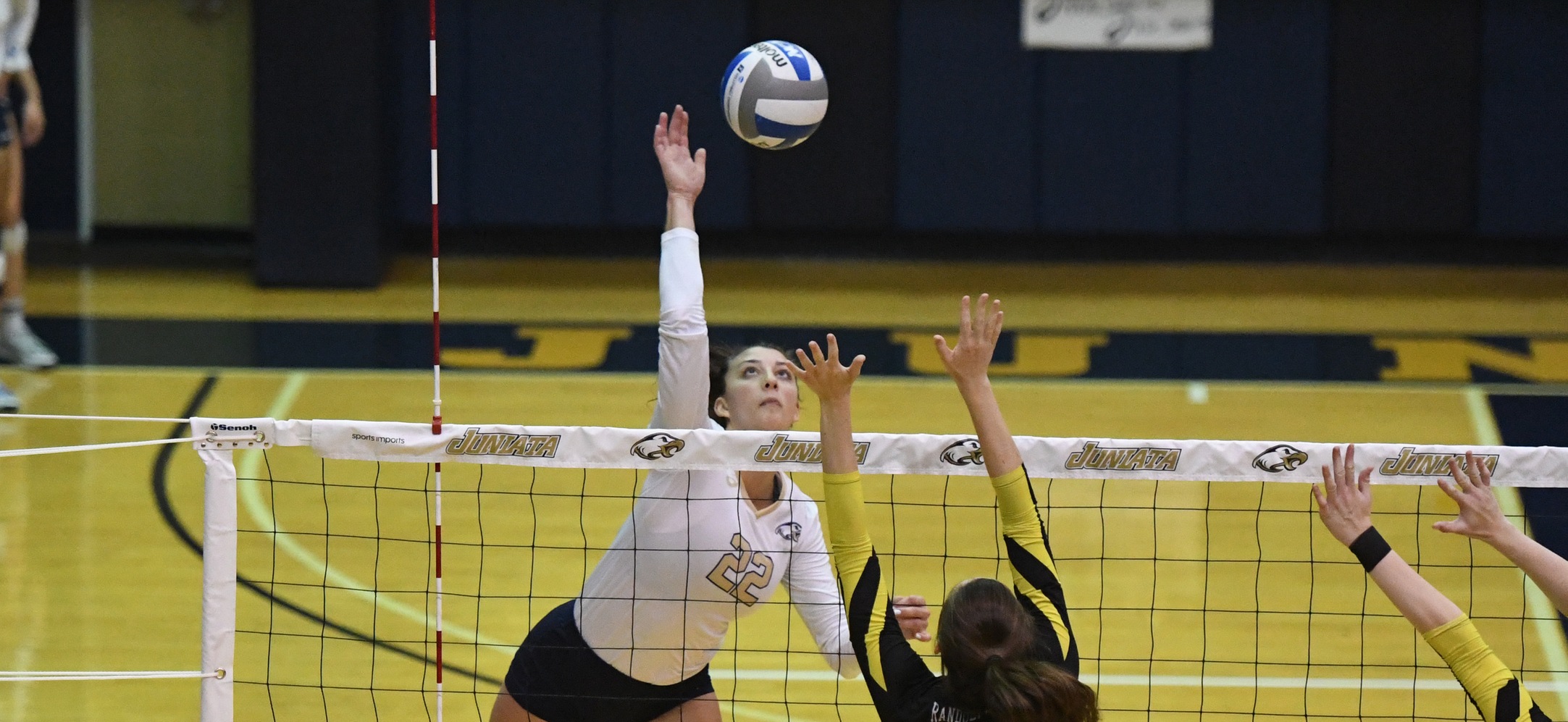 HUNTINGDON, Pa.- The Juniata women's volleyball team dropped a 3-2 (25-19, 22-25, 25-17, 23-25, 13-15) decision to Randolph-Macon, in the final match of the Wid Guisler Tournament Saturday evening.
With the score at 10-11, the Eagles went on a 7-0 surge to regain the lead and take control of the match. Morgan Edwards (Lancaster, Pa. / Penn Manor) put down a kill, Dejia Danhi (Ashburn, Va. / Stone Bridge) and Edwards combined for a block, McKenna Walker (York, Pa. / York Catholic) tallied an ace, Marie Gonsar (New Castle, Pa. / Shenango H.S.) notched a kill, Walker added another ace before Edwards and Gonsar smacked down one more kill apiece. The Eagles cruised from there to take set one, 25-19.
The second set was tight early, but the Yellow Jackets slowly began to pull away as they led by five, 13-18. Following a JC timeout, Emma Davis (East Berlin, Pa / Dover Area HS) produced a kill, Victoria Taylor (Middletown, Del. / Delaware Military Academy) added one of her own before another Gonsar ace brought the Eagles within two, 16-18. Juniata got within two, three more times, on a Davis kill at 17-19 and two different times on Edwards kills (20-22 & 21-23), but couldn't finish the comeback as they lost 21-25.
Juniata came out authoritatively in the third as they jump ahead 12-3 and never really looked back as they never let the Yellow Jackets get closer than five the rest of the set. With the score at 18-13, a block by Edwards and Danhi, two errors from the visitors, a kill from Danhi and another ace by Walker made it 23-13. The Eagles won a block by Danhi and Davis, 25-17.
Randolph Macon led almost the entire way in the fourth set as the Eagles tied the score several times after holding a narrow 7-6 lead, but could never get over the hump. Trailing by two very late in the set, 21-23, kills from Gonsar and Taylor knotted the score at 23 all, but the Yellow Jackets took the next two points to send the match to a fifth and final set.
Juniata built themselves a small lead early and continued to nurse the lead, with the Yellow Jackets tying it several times but not managing to pull ahead. With the score at 10-10, two kills from Danhi and an RMC attack error put the Eagles up 13-10. The Yellow Jackets called timeout, and it was effective as they took the next five points, broken up by two JC timeouts, to win the match 13-15.
Moira Folan (Pittsburgh, Pa. / Oakland Catholic HS) had a career-high 55 assists leading the offense while Aly Reardon (Downingtown, Pa. / Downingtown West HS) tied a season-high with 28 digs.
The Eagles will take on Moravian, next Saturday at 11:00 to open the Landmark Tri-Match.