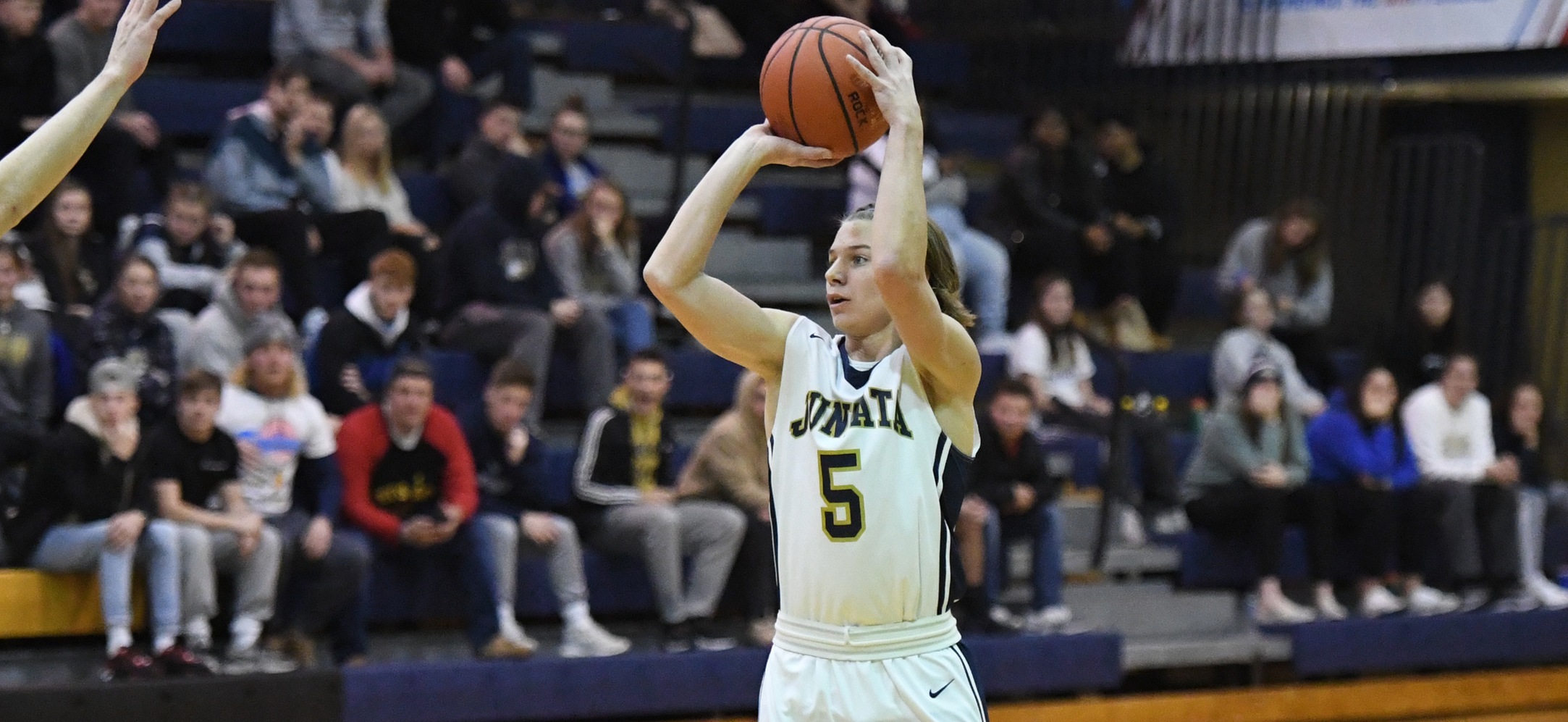 WILLIAMSPORT, Pa.- The Juniata men's basketball team battled bravely on the road against Lycoming, missing some players due to the flu, but ultimately came up short, 73-56, Sunday afternoon.
The Warriors opened the scoring with a jumper 57 seconds into the contest, with Marcus Hall (York, Pa. / Trinity) getting the Eagles on the board with a layup. Kohl Bernarding (Cochranton, Pa. / Cochranton H.S.) followed with a jumper for two of his season-high 18 points to give JC the lead for a moment. Two three's and a jumper from the hosts quickly put the Eagles in a 10-4 hole.
Lycoming slowly increased their lead to nine, 16-7, with a little under 14 minutes to go. Two free throws from Jake Holsopple (Duncansville, Pa. / Hollidaysburg), a jumper from Griffin LaCarte (Belle Vernon, Pa. / Belle Vernon) and a putback by Zach Engle (Millheim, Pa. / Penns Valley) brought JC within three at 16-13.
With three minutes and 13 seconds to go in the half Lycoming led by 10, 29-19, following a mid-range jumper. Bernarding, Nate DaCanal (Johnsonburg, Pa. / Elk County Catholic), who tallied a career-high 14 points, and Holsopple each scored to narrow the deficit to four with a little under a minute to go in the half. The Warriors converted another jumper before Holsopple drilled a three from the left corner off a pass by Bernarding to send JC into the locker room down three, 31-28.
A layup by Nick Rigby (Huntingdon, Pa. / Huntingdon H.S.), a free throw from John Kelly (Philadelphia, Pa. / Roman Catholic High School) and a three from DaCanal were the only points for the Eagles in the opening five minutes of the second half as Lycoming led 47-34.
The Eagles trailed by 19 with nine minutes to go, before Bernarding found DaCanal for another three, DaCanal got a block on defense and converted a jumper on the other end to bring JC within 14. Following an Eagle timeout, Juniata got some more stops and Filippo Baldo (Easton, Pa. / Notre Dame Green Pond H.S.) drilled a triple off a pass from Hall to bring Juniata within 11 with nearly six minutes to go in the game, but they couldn't get any closer.
Juniata will return to action next Saturday at Drew. Tipoff is at 2:00 PM.