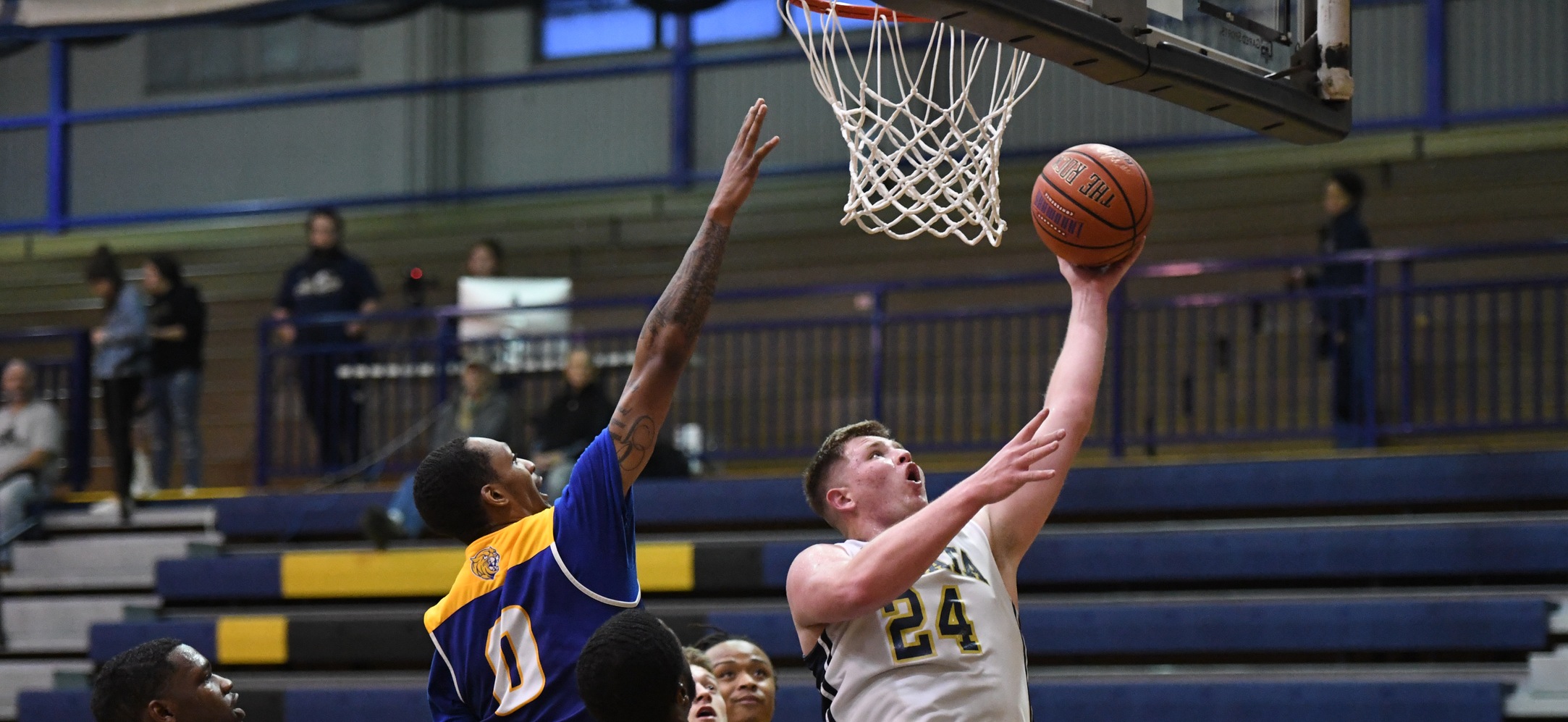 HUNTINGDON, Pa.- The Juniata men's basketball team fell behind a quick barrage from Johnson and Wales and couldn't recover as the Wildcats went on to win, 67-52, Saturday afternoon in the championship game of the Doc Greene Tournament.
It was a sloppy start to the game as the teams exchanged turnovers to open the proceedings. The Wildcats got on the board first with a jumper. Kohl Bernarding (Cochranton, Pa. / Cochranton H.S.) found John Kelly (Philadelphia, Pa. / Roman Catholic High School) alone under the hoop on a nice pass that sliced through the defense for a layup to knot things at 2-2.
Johnson and Wales completely took over the next nine minutes as they embarked on a 22-5 run that saw them go up 24-7 with about 10 minutes to go in the half.
Kelly converted a jumper from the right wing, Nate DaCanal (Johnsonburg, Pa. / Elk County Catholic) scored on a runner and Nathan Markey (York, Pa. / Central York) drilled a three of a pass from DaCanal to cut the deficit to 10 as JC started to get comfortable. The Wildcats stretched the lead back to 17 as they closed the half with a 13-6 surge as Juniata trailed, 37-20, at the break.
Johnson and Wales started the second half by pushing their lead to as many as 22, but the Eagles kept fighting.
DaCanal scored on a strong drive to the hoop, Jake Holsopple (Duncansville, Pa. / Hollidaysburg) jumper off a pass from Markey before the Wildcats scored on a dunk off an inbounds pass. Holsopple drilled a three from the top of the ley off a pass from Bernarding, but the Wildcats answered with a three of their own.
Markey drilled two free throws to get Juniata within 13, 52-39, with 10 minutes to go in the game. Johnson and Wales split a pair of free throws before Markey found Holsopple in the right corner for a three that made it 53-42. But the Eagles couldn't get any closer as the Wildcats pulled away in the final eight minutes to clinch the game.
Bernarding and Kelly were named to the all-tournament team for the Eagles.
The Eagles will take on William Patterson in the DeSales Holliday Tournament, Saturday the 28th at 4:00.