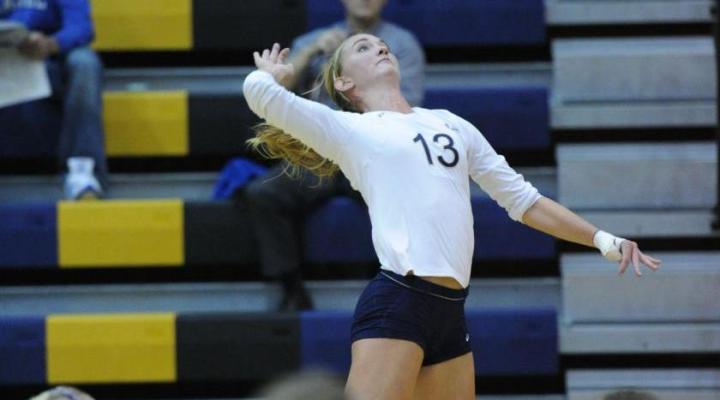 ATLANTA – The Juniata College women's volleyball posted its second victory of the season over a nationally-ranked foe Saturday, with a 3-2, come-from-behind win over fifth-ranked Heidelberg College at the Emory University National Invitational tournament.
Juniata (23-7) downed Heidelberg by set scores of 25-23, 17-25, 21-25, 25-23, and 15-13.
Later on Saturday afternoon, the Eagles completed play at the Emory tournament with a 3-1 triumph over Washington & Lee University, 25-21, 24-26, 25-23, and 25-21.
Junior pin hitter Kelsey Fuller (Red Lion, Pa./Red Lion) led the charge against Heidelberg with 15 kills, while middle Amelia Kepler (Kane, Pa./Kane Area) and pin hitter Rachelle Wiegand (Manheim, Pa./Manheim Central) logged 12 kills each. Wiegand and Kepler each charted a block, while Wiegand added a service ace.
Senior middle Amanda Schmidt (Boswell, Pa./North Star) recorded 11 terminations and also served up an ace.
Freshman Brittani Young (Columbia, Pa./Hempfield) paced the Eagles defensively with 32 digs, while senior libero Libby Morrison (Portland, Ore./Oregon Episcopal School) and Courtney Greenberg (Fort Myers, Fla./Fort Myers) charted 29 and 22 digs respectively.
Freshman Christine Sumner (Dublin, Ohio/Bishop Watterson) was Juniata top offensive weapon in the win over W&L, putting away 15 kills while Fuller tallied 13 terminations to go with 12 digs. Wiegand tacked on 12 kills to go with her two service aces. Young served up a team-high four aces, and also sprawled for 12 digs. Morrison finished with 26 digs to lead Juniata defensively.
Schmidt had a hand on seven total blocks, including four solo blocks. Kepler finished with a pair of block assists.
Juniata will now have a week to prepare for the Landmark Conference Women's Volleyball Championship. The Eagles will host the semifinals and championship match on Saturday, Nov. 5, at the Kennedy Sports + Recreation Center; semifinal matches are scheduled for 11:00 a.m. and 1:30 p.m., with the championship match slated for 7:00 p.m.
-30-