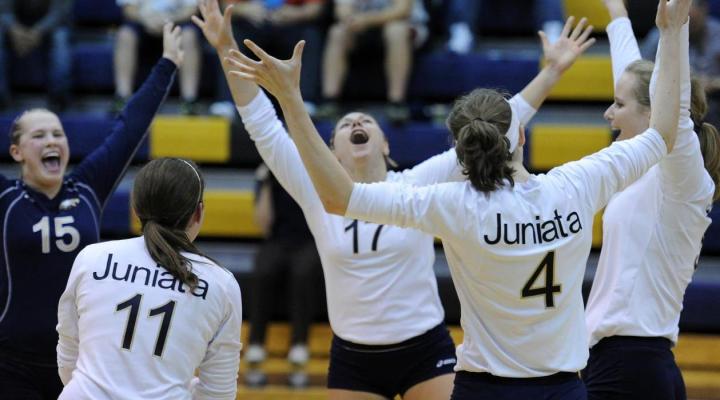 HUNTINGDON, Pa. – Juniata College women's volleyball hit .337 for the match and chalked up eight services aces on its way to a 3-0 win over Penn State Altoona, Thursday night at the Kennedy Sports + Recreation Center.
Juniata (17-6) won by set scores of 25-16, 25-15, and 25-6.
Sophomore outside hitter Rachelle Wiegand (Manheim, Pa./Manheim Central) logged a match-high 10 kills, while freshman middle Courtney Lydick (McKean, Pa./General McLane) charted eight kills. Senior middle Amanda Schmidt (Boswell, Pa./North Star) had seven terminations, and finished with four total blocks on the night.
Altogether, the Eagles put away 40 kills to the Lions' 19, while out-blocking Penn State Altoona, 6.0 to 2.0. The Lions gave away 21 points on attack errors and service errors.
Junior Shelby Cassell (Grantham, Pa./Mechanicsburg) started at setter for Juniata, her first appearance at setter since her freshman campaign, and finished with 24 assists. Senior libero Libby Morrison (Portland, Ore./Oregon Episcopal School) and junior pin hitter Kelsey Fuller (Red Lion, Pa./Red Lion) each sprawled for nine digs, as the Eagles also out-dug the Lions, 33-29.
After taking the first two sets with relative ease, Juniata dominated the visiting Lions in the third set. The Eagles jumped out to a 3-0 lead on a Fuller kill and service ace sandwiched around a Lion attack error, before a sideout kill by PSU Altoona's Nicole Burkhardt halted the Juniata run. However the Eagles rattled off the next eight points, including three by Lion errors and two off Morrison aces, to take a commanding 11-1 lead.
Later in the set, Juniata took six straight points off Wiegand's serve, three of which were Cat Scholl (Austin, Texas/St. Michael's Catholic) kills, to eventually take an 18-3 lead. Back-to-back kills at 22-6 brought Juniata to match-point, and a double block by Amelia Kepler (Kane, Pa./Kane Area) and Christine Sumner (Dublin, Ohio/Bishop Watterson) closed out the match.
Middle hitter Robin Tabaka led the Penn State Altoona (12-10) offense with six kills, with outside hitter Samantha Link one of three players to post three kills to go with her eight digs. Libero Emily Frye also turned up eight digs for the Lions.
Juniata heads to Catholic University of America this weekend to compete in the second of two Landmark Conference round robin weekends. The Eagles will face the United States Merchant Marine Academy on Saturday, Oct. 15, at 3:30 p.m., followed by a match against Goucher College on Sunday, Oct. 16, at 1:30 p.m.
-30-