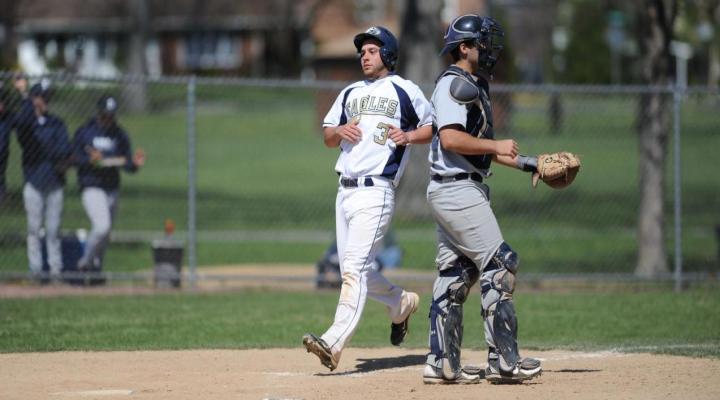 HUNTINGDON, PA. – Juniata College baseball couldn't overcome a nine run margin posted by Drew University in the first inning as Juniata fell 14-6 at Langdon-Goodale Field Saturday afternoon.
Drew (13-10, 4-5 Landmark) claimed the win in the first inning with nine runs and put-up some extra security with three runs in the third. The Rangers earned 15 hits, five walks and five hit by pitches on the day.
Juniata (10-17, 2-10 Landmark) couldn't seem to get runners on until the third inning, as Juniata carried just one runner on base into the third. Senior Matt Fritz (Schnecksville, Pa./Parkland) worked the pitcher for a walk to leadoff the third and quickly stole second during the following at bat. Fritz later scored off a Ranger throwing error. Junior Ben Mersky (Hershey, Pa./Hershey) brought home junior Chase Dykstra (Somerset, Pa./Somerset Area) a couple of batters later, and Mersky scored Juniata's third and final run of the inning off a wild pitch.
The Eagles plated two more runs in the eighth and a single run in the ninth, but Juniata's seven hits across the nine innings proved to be not enough, and Juniata was further hindered from seven strikeouts.
Drew's Ken Myers was awarded the win for his 6.2 innings of work. He struck out four Juniata batters in 25 batters faced. Freshman Chris Fulton (West Chester, Pa./Unionville High School) gave up all nine runs in the first inning and is charged with the loss.
Mario DeYulius (Ebensburg, Pa./Central Cambria) stepped in for 1.2 innings for Juniata and struck out a pair of batters and allowed three runs. Drew plated two runs on junior Josh Green (Hagerstown, Md./Clear Spring), who hurled for 4.2 innings. Green struck out two batters, while senior Nate Burkey (Alexandria, Pa./Juniata Valley), who pitched a single inning, fanned one Ranger. Junior Brad Medellin (Lewisberry, Pa./Red Land) closed out the game on the mound with a single inning of work and gave up one hit.
Mersky, Medellin, Dan Gray (Johnstown, Pa./Richland), Derek Heath (Huntingdon, Pa./Huntingdon), Cole Walters (Mt. Union, Pa./Mt. Union), Cody Krepps (Tyrone, Pa./Bellwood-Antis), and Russell Gray (Johnstown, Pa./Richland) were the seven Eagles to log a hit in the contest, with Krepps, R. Gray and Heath notching one RBI apiece.
Juniata next heads to Penn State Altoona for a Tuesday, April 10 double header. First pitch of game one is scheduled for 1:00 p.m.
-30-