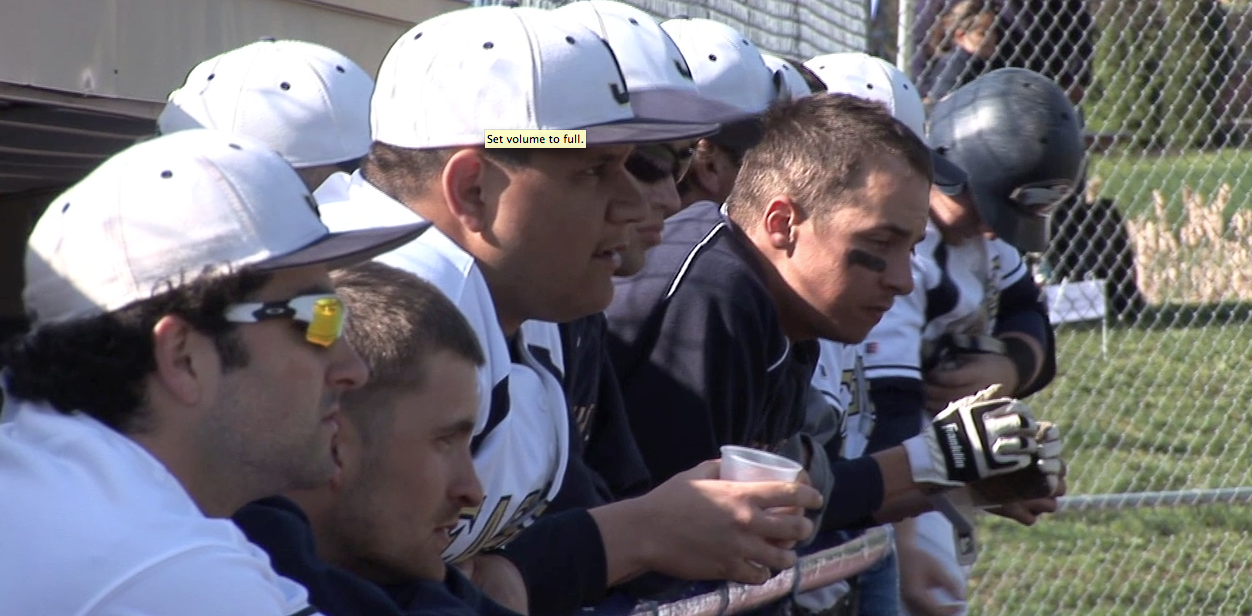 HUNTINGDON, PA. – Juniata College baseball posted seven runs in the second inning of game one to lift Juniata over visiting Drew University as the Eagles earned a 9-3 victory, before falling in game two 9-6, at Langdon-Goodale Field Friday afternoon.
Juniata (10-15, 2-9 Landmark) combined for a .392 batting average in game one of the twinbill and posted a total 11 hits, three walks, and just one strikeout.
Juniata allowed one run in the first inning and responded with a run, sparked from Brad Medellin (Lewisberry, Pa./Red Land) infield hit to short stop. Medellin made his way to third on a Ranger third baseman error and scored off a sophomore Joe Sforza (Pittstown, N.J./Immaculata) sacrifice fly into right field.
The next inning, Juniata posted seven runs on Drew, with the first two coming from a junior Ben Mersky (Hershey, Pa./Hershey) single to center that allowed both Jace Rhoads (Summersville, Pa./Clarion-Limestone) and Cole Walters (Mt. Union, Pa./Mt. Union) to score. Sforza earned his second RBI of the game and the winning run when he walked to score junior Chase Dykstra (Somerset, Pa./Somerset Area). Senior Russell Gray (Johnstown, Pa./Richland) worked the Drew pitcher one batter later and also walked to score Mersky.
After four runs, Drew (11-10, 2-5 Landmark) attempted a pitching change without much reward as the hurler's very first batter faced was junior Derek Heath (Huntingdon, Pa./Huntingdon), who roped a double into left center to score three runs.
Senior William Hoffman (Phoenix, Md./Dulaney) did an outstanding job on the mound throughout all seven innings for the Blue and Gold. Hoffman struck out as season high seven batters and allowed just six hits, Drew's least amount in five games.
The Eagles fell behind early in game two allowing eight runs in the first inning and just one run in the second. After that, Juniata's defense held strong and didn't allow the Rangers to plate another run for the rest of the game.
Juniata didn't give up and tacked on two runs in the second, one in the third and brought the game to within just three runs with three runs plated in the fifth.
Nathan Strom (Ebensburg, Pa./Central Cambria) is charged with the loss for his 0.2 innings of work as he gave up seven hits and eight runs. Senior Nate Burkey (Alexandria, Pa./Juniata Valley) stepped in for 2.1 innings and allowed four hits and one run. Sophomore Ryan Morrison (Lebanon, Pa./Lebanon Catholic) closed out the game with four innings and allowed just three hits and fanned two Drew batters.
On the day, Juniata's first three batters in both games' lineups, Mersky, Medellin and sophomore Dan Gray (Johnstown, Pa./Richland), each logged at least three hits with Mersky taking-the-cake with four. Heath knocked in a team-high five runs on the day, with Sforza grabbing a pair of RBI in each contest.
Juniata will complete its Landmark Conference series against Drew tomorrow Saturday, April 7. First pitch is scheduled for 12:00 p.m.
-30-