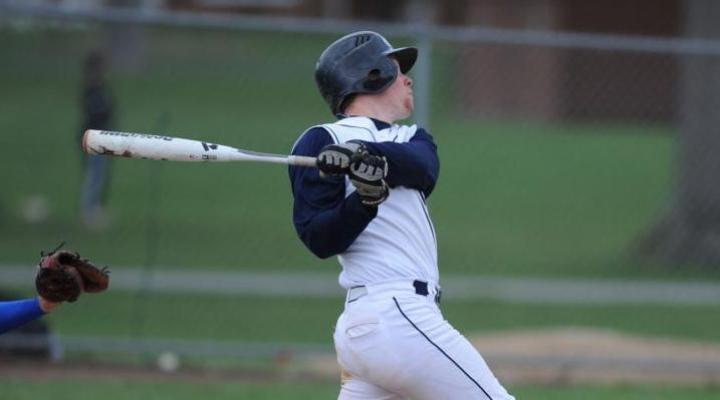 WASHINGTON, D.C. – Juniata College baseball pounded out 10 runs on a season-high 17 hits, but Catholic University made better use of its seven hits while benefitting from 18 walks on its way to a 15-10 come-from-behind win over the Eagles, in Sunday's Landmark Conference game at Talbot Field.
Juniata (7-15, 1-8 Landmark) jumped out to a 6-0 lead on Catholic thanks to a five-run uprising in the second inning on five hits and a costly two-out error by the Cardinals. Cole Walters' (Mount Union, Pa./Mount Union) grounder to third resulted in an error, loading the bases for the Eagles.
Jace Rhoads (Summerville, Pa./Clarion-Limestone) promptly laced a double down the left field line, plating Dan Gray (Johnstown, Pa./Richland) and Brad Medellin (Lewisberry, Pa./Red Land). Joe Sforza (Pittstown, N.J./Immaculata) sent a single the opposite way into right field, allowing Walters and Rhoads to cross for two more runs.
Catholic got two runs back in the bottom of the second on Colin McCarthy's two-run home run, but Juniata got the pair of runs back in the top of the third including one run on Gray's RBI single down the right field line.
After the Cardinals put up one run in the bottom of the third, the Eagles tacked on two more runs in the fourth, stretching their lead to 10-4. Sforza got aboard in the fourth with a fielder's choice grounder and later scored on a wild pitch, while Derek Heath (Huntingdon, Pa./Huntingdon Area) singled home Thomas Eck (Columbia, Pa./Lancaster Catholic) with a base hit to right.
The Cardinals (16-8, 5-4 Landmark) added single runs in the fifth and sixth, but a scoreless seventh inning left the Eagles with a 10-6 lead heading into the bottom of the eighth.
Catholic surged ahead of Juniata with nine runs on two hits and no errors, as the Cardinals received six walks and had two batters hit by pitch. Tim Mierzwa and McCarthy each singled in runs while Marc Hanna plated one run on a sacrifice fly to left field; all the remaining Catholic runs crossed through bases loaded walks or hit batsman.
The Eagles had some momentum with a pair of hits in the ninth inning, but couldn't sustain the rally to get any runs across the plate.
Ryan Morrison (Lebanon, Pa./Lebanon Catholic) allowed six runs, four earned, on five hits over his six innings of work in the start, but yielded 11 walks with only two strikeouts. Mario DeYulius (Ebensburg, Pa./Central Cambria), Josh Green (Hagerstown, Pa./Clear Spring), and Medellin finished out the game, with Green getting charged with the loss.
Five different Catholic pitchers saw time on the mound, with reliever Chris Nee getting the win.
Juniata is at home for its next five games, starting with a doubleheader against Mount Aloysius College on Tuesday, April 3, at 1:00 p.m. on Langdon-Goodale Field.
-30-