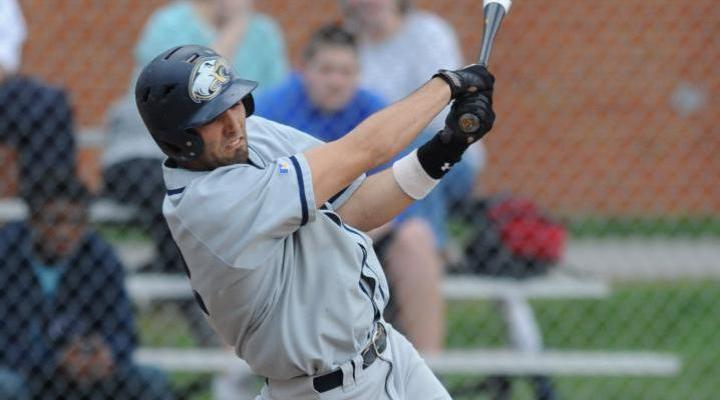 WASHINGTON, D.C. – Juniata College managed just one run on Catholic University of America during its Landmark Conference 12-1 and 8-0 losses Saturday afternoon at Robert J. Talbot Baseball Field.
Catholic (15-8, 4-4 Landmark) combined for 28 hits and a .451 team batting average on its way to a pair of wins over Juniata (7-14, 1-7 Landmark). The Eagles had just six hits on the day and left five runners on base over the 14 innings.
Juniata's lone run of the day came in the top of the third inning, sparked by a Tom Eck (Columbia, Pa./Lancaster Catholic) single to center. Senior Matt Fritz (Schnecksville, Pa./Parkland) grounded into a fielder's choice and moved to third on a junior Chase Dykstra (Somerset, Pa./Somerset Area) single up the middle. Brad Medellin (Lewisberry, Pa./Red Land) put the ball in play to the right side allowing Fritz to cross the plate.
Freshman Chris Fulton (West Chester, Pa./Unionville High School) got the start on the mound for the Eagles and pitched a full five innings. Fulton allowed five earned runs, four of which came in the Cardinals' four run rally in the first, on 13 hits and fanned one Catholic batter. Senior Nate Burkey (Alexandria, Pa./Juniata Valley) stepped in for the final inning for Juniata and allowed three earned runs and four hits.
Medellin, sophomore Joe Sforza (Pittstown, N.J./Immaculata), Eck and Dykstra were the only Juniata players to notch hits in game one.
In game two, the only Eagles to climb aboard with hits were juniors Derek Heath (Huntingdon, Pa./Huntingdon) and Cole Walters (Mt. Union, Pa./Mt. Union).
Senior hurler Will Hoffman (Phoenix, Md./Dulaney) is charged with game two's 8-0 loss for his 3.2 innings of work. Hoffman allowed all eight Catholic runs on nine hits and struck out one batter. Sophomore Nathan Strom (Ebensburg, Pa./Central Cambria) came in for Hoffman in the fourth and finished out the contest with 2.1 innings and gave up just two hits and blanked the Cardinals on the scoreboard for the rest of the game.
Juniata finishes up its Landmark three-game series in Washington, D.C. against the Cardinals tomorrow, Sunday, April 1. The games' first pitch is scheduled for 12:00 p.m.
-30-