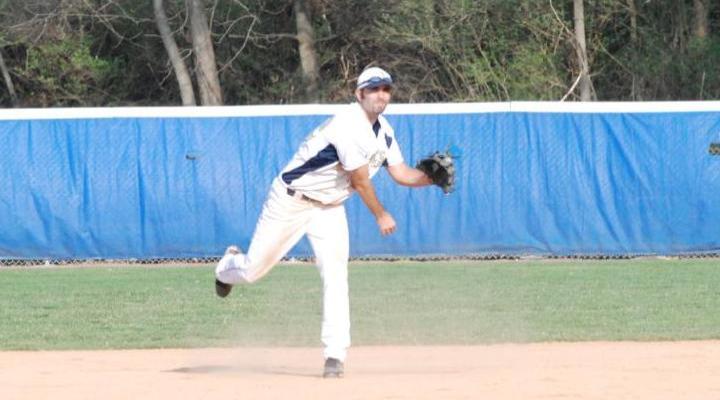 LOCK HAVEN, Pa. – Juniata College couldn't get the sticks going and fell 21-2 to Lock Haven University Wednesday afternoon at Foundation Field.
The Haven knocked out 21 hits to its 21 runs and held Juniata to just nine hits and two runs.
The Eagles broke open the game's scoring in the third inning of the contest with a single run. Juniata (7-12) was jump-started by a senior Matt Fritz (Schnecksville, Pa./Parkland) double to left center, and a junior Chase Dykstra (Somerset, Pa./Somerset Area) sacrifice bunt moved Fritz over to third. Junior Ben Mersky (Hershey, Pa./Hershey) drove in Fritz with an infield single to the short stop.
Lock Haven (8-15-1) responded in the bottom of the inning with five runs that included a three-run homer. However, Juniata turned around and put another run on the board in the fourth to decrease the margin to just three runs. Brad Medellin (Lewisberry, Pa./Red Land) doubled to left field and a Walters grounder moved Medellin to third. Sophomore Joe Sforza (Pittstown, N.J./Immaculata) smacked a single into right field to plate Medellin.
Those would be the only runs Juniata would score for the rest of the contest, and the Haven proved to just be heating up as they scored 12 runs alone in the bottom of the fourth to sink the Eagles.
Mersky, Sfroza and Medellin each ended the day going 2-of-3, while freshman Cody Krepps (Tyrone, Pa./Bellwood-Antis), Fritz and pinch-hitter Hunter Phillips (Funkstown, Md./South Hagerstown) each logged hits.
For three innings of work and the start on the mound for the Eagles, Sforza gets the loss as he gave up 10 runs and eight hits while striking out two Lock Haven batters. Junior Josh Green (Hagerstown, Md./Clear Spring) faced 17 Haven batters and allowed seven runs on nine hits.
Junior Justin Miller (Bellwood, Pa./Bellwood-Antis) pitched one inning for Juniata and gave up two hits and three earned runs. Andrew Groninger (McAlisterville, Pa./East Juniata) pitched a strong seventh inning for the Eagles, as he didn't allow a single hit and forced two fly outs and a ground out. Medellin pitched the final inning on the mound and allowed just one run on two hits in six batters faced.
Juniata travels to Washington, D.C. this coming weekend for a three-game Landmark Conference series against Catholic University of America. First pitch of Saturday's double-header is scheduled for 1:00 p.m.
-30-